BOSCH® CORE18V™ Starter Kit with (2) 4.0 Ah Compact Batteries & Charger - GXS18V-11N25
Delivers cutting-edge battery performance and charger flexibility
BOSCH® CORE18V™ Starter Kit Features
Compact 18V battery – provides next-gen power and runtime, while losing the weight, for tools used on the jobsite all day
Fast-charging convenience – allows users to charge a Bosch 18V 4.0 Ah battery to 80% in 48 minutes or to 100% in about an hour
High-power cells – use enhanced 21700 cell technology, combined with advanced design, to produce higher currents for a longer time
Cutting-edge cell design – engineered to improve performance in tools used on the jobsite all day
Bosch-exclusive CoolPack 2.0 technology – cooling the battery 15% faster than previous 4.0 Ah double-layer versions
Lightest high-power battery – weighs only 1.15 Lb., but provides performance comparable to much heavier batteries
System compatibility – battery features compatibility with Bosch 18V Lithium-ion tools and chargers
Regulated dual-mode charging – safely charges battery fast; first 80% of charge is fast, remaining 20% in long-life mode
Battery-status indicator – provides indication if charger is in fast-charging mode, long-life mode or when charging is complete
The Bosch GXS18V-11N25 CORE18V Compact Starter Kit features two batteries and a charger to deliver cutting-edge battery performance and charger flexibility. The CORE18V Compact Battery is the next-gen Lithium-ion battery to keep the power and runtime, while losing the weight. Engineered with 21700 cell technology, the GBA18V40 single-layer battery matches the power from the original two-layer 4.0 Ah battery with improved performance per cell. The Bosch GAL18V-40 4.0 A charger can completely charge a discharged CORE18V 4.0 Ah battery to 80% in 48 minutes and to a full charge in about an hour. This dual-stage charger charges the first 80% in fast charging mode and the remaining 20% in long-life mode, getting the user back to work quickly. It features charging indicator lights showing when the battery is fast charging, charging in long-life mode or finished charging. The battery provides exclusive CoolPack 2.0 technology to manage the heat of the higher power-density cells, and it provides better cooling than the previous 4.0 Ah double-layer versions. This new-gen CORE18V still features compatibility with Bosch 18V Lithium-ion tools and chargers.
Are we missing the specification you need? Please go to our Contact Us page and submit your question to us, or call 1-877-284-7760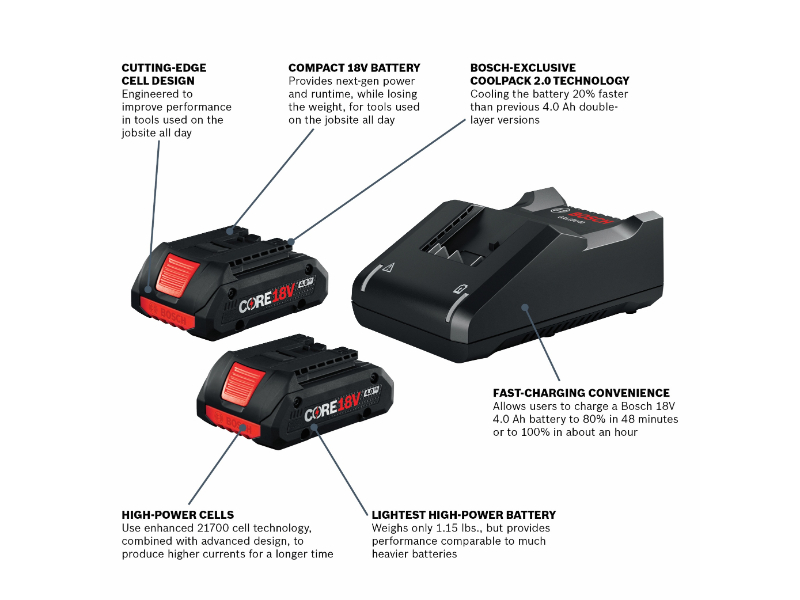 TECHNICAL DATA
Battery Chemistry

Lithium Ion

Battery Watt Hours

72.0Wh

Height

1.85"

Length

4.6"

Width

3.0"

Works With

Charger Compatibility
All Bosch 18V Lithium-ion Batteries, including the GBA18V120 12.0 Ah Battery

Includes

(2) GBA18V40 18V CORE18V Lithium-Ion 4.0 Ah Compact Batteries, (1) GAL18V-40 18V 4.0 A Charger
Have a question that is not answered here? Please go to our Contact Us page and submit your question to us.
---
Request a Quote
Looking for a quotation ? We would be happy to help by providing a quick response, inventory status, and Volume Level pricing, when available. Please fill out the form below and a representative will be in touch with you within hours to one business day to answer any questions and quote your request.