Black PVC Coated Stainless Steel Cable Ties
Polyester Coated | Added Durability & UV + Chemical Resistance
Kable Kontrol™ Coated Stainless Steel Cable Ties
Steel Cable Ties Coated with Black Polyester for Enhanced insulation, & added outdoor durability
Self-locking head design speeds installation and locks into place at any length along tie body
Provides a strong, durable method of cable bundling
Can be used in a wide range of indoor, outdoor, and underground (including direct burial)
Smooth surfaces and rounded edges assure cable protection and worker safety
Provide the ultimate support for network cables
Working (Operation) Temperature: -112°F to 1000°F
Water absorption: none
Flammability: Non-Flammable
Ultraviolet resistance: excellent, Chemical resistance: excellent
TYPE 304 Stainless Steel
See More Technical Specifications
Kable Kontrol® Plastic Coated Stainless Steel cable ties provide added tensile strength and durability when compared to plastic cable ties. Black Coated metal cable ties can be used in almost any environment; outdoor, indoor, and even underground. These coated steel cable ties have endless applications for almost every industry. These coated metal zip ties are compatible with most applications, Kable kontrol® Plastic Coated Stainless Steel cable ties have a continuous working temperature of -112°F to 1000°F and can support a maximum weight of 200lbs. All Kable Kontrol® Plastic Coated Stainless Steel cable ties feature rounded edges and a smooth surface making these cable ties easy on the hands, in addition to a self-locking head that locks into place at any point on the cable ties body. Made of high-quality steel these cable ties have a high resistance to a variety of externalities including insects, fungi, animals, molds, mildew, rot, UV Light, and many chemicals.
Ideal for Applications:
indoor, outdoor, and underground applications, including Automotive, Communications, Utilities, Aerospace, Industrial, Construction, Marine, Signs, Signals, Nuclear, and Solar Installations.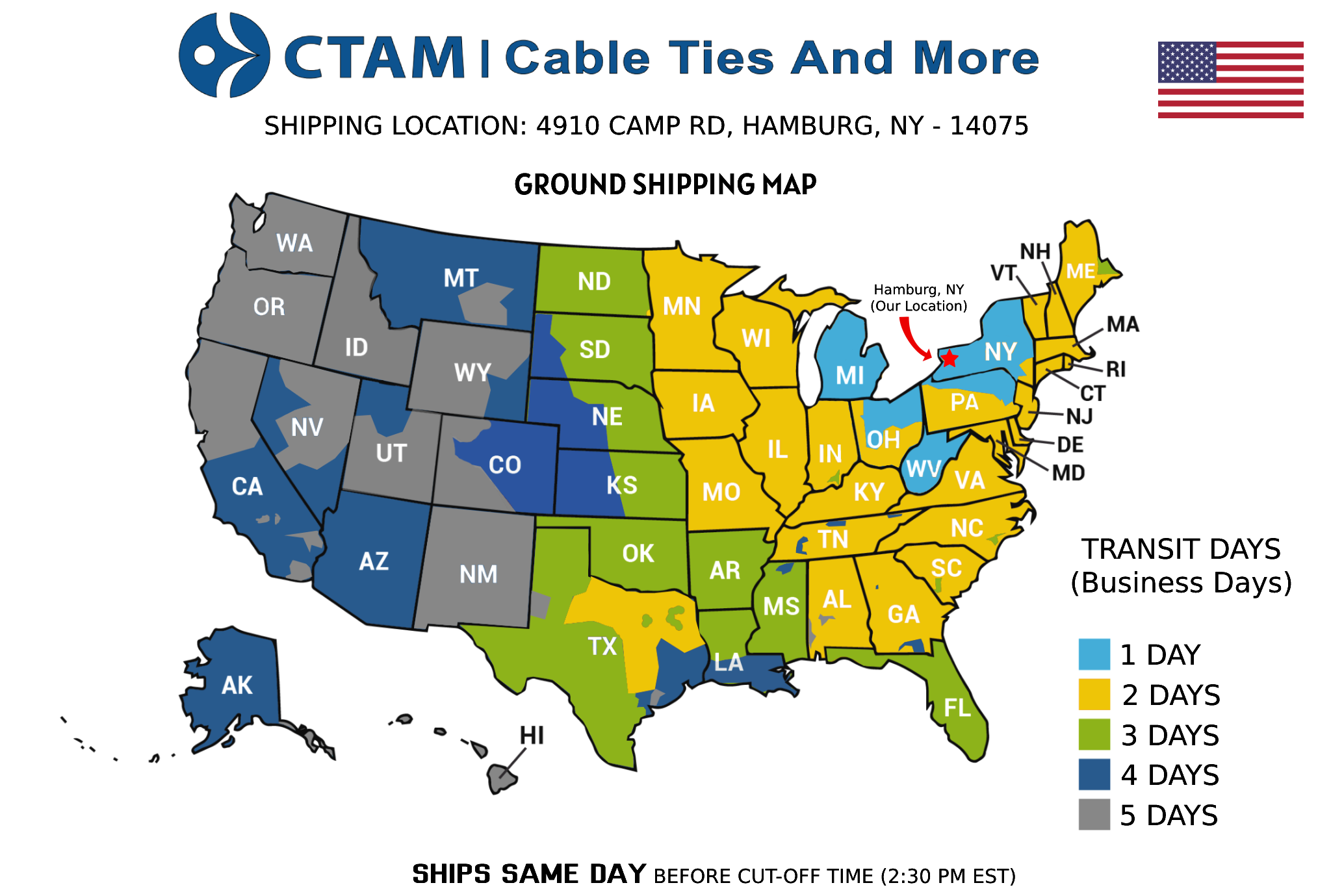 Are we missing the specification you need? Please go to our Contact Us page and submit your question to us, or call 1-877-284-7760
Material Specifications
MATERIAL

MIN
OPERATING
TEMPERATURE

MAX
OPERATING
TEMPERATURE

UV
RESISTANCE

FLAMMABILITY

CHEMICAL
RESISTANCE

PVC Coated Type 304 Stainless Steel

-112ºF
-80ºC

1000ºF
538ºC

Excellent

Non-Flammable

Excellent

Technical Specifications
Stainless Steel Cable Ties Grade 304 Specifications

Part Number

Length

Min. Tensile
Strength

Strap Width

Max Bundle Diameter

Head Width

Package Qty

Full Case Qty

SSCT-05-BLACK

5.0" (127 mm)

200 lbs

0.18" (4.6 mm)

1" (25.4 mm)

0.26" (6.5 mm)

100

50 Packs

SSCT-08-BLACK

8.0" (203 mm)

200 lbs

0.18" (4.6 mm)

2" (50.8 mm)

0.26" (6.5 mm)

100

50 Packs

SSCT-11-BLACK

11.0" (279 mm)

200 lbs

0.18" (4.6 mm)

2.7" (68.58 mm)

0.26" (6.5 mm)

100

30 Packs
30 Day Return & Refund Policy
If you are not entirely satisfied with your purchase, we're here to help. You have 30 calendar days to return an item from the date you received it. To be eligible for a return, your item must be unused and in the same condition that you received it. Your item must be in the original packaging.
You are required to have an RMA (Returned Merchandise Authorization) assigned by our customer service team. To apply for an RMA you must fill out our RMA request Form linked here.
Undeliverable Shipments:
In the event that the customers shipping address provided is deemed undeliverable by the shipping carrier, shipping fee's will not be refunded. Instead it is the customers responsibility to provide a deliverable address.
Defective/damaged products or items incorrectly shipped:
In the highly unlikely event that a defective product or the another item that was not ordered was sent to you, please contact us via phone or email to schedule a return within 14 days of receiving the product. We may require photos for documentation and to authorize a replacement shipment.
Defective/damaged products or items incorrectly shipped by Cable Ties And More or by our manufacturers, will be re-shipped at our expense. Additionally, return shipping expense of incorrect or defective product will be at our expense. We will provide you with a return shipping label with detailed shipping instructions.
Refunds
Once we receive your item, we will inspect it and we will immediately notify you on the status of your refund after inspecting the item. If your return is approved, we will initiate a refund to your credit card (or original method of payment). You will receive the credit within 48 hours after product condition is verified.
Shipping Fees
You will be responsible for paying for your own shipping costs for returning your item. Shipping costs are non-refundable. If you receive a refund, the cost of return shipping will be deducted from your refund. For additional information in this section, create your own Return & Refund Policy.
Contact Us
If you have any questions on how to return your item to us, contact us using our Email Form Here… Or call during our business working hours at 1-877-284-7760
Have a question that is not answered here? Please go to our Contact Us page and submit your question to us.
---
Request a Quote
Looking for a quotation ? We would be happy to help by providing a quick response, inventory status, and Volume Level pricing, when available. Please fill out the form below and a representative will be in touch with you within hours to one business day to answer any questions and quote your request.