Stainless Steel Cable Clamps - Rubber Insulated
Highly Corrosion & Impact Resistant - 1/4" to 1" Diameters
Rubber Insulated Stainless Steel Cable Clamp Features
100 pcs per Pack
Stainless steel is highly resistant to natural corrosion
Adapts to both extreme hot and cold temperatures
Secures cables together and mounts to most surfaces
Rubber insulated
Mount hole 1/4" & 1/2" metal width
Thermoplastic rubber cushion rated to 194°F
Commonly used with aircraft harnesses, pipes, and hoses
MIL Spec R-3065 & AMS-3209
These steel clamps work well with wire harnesses and wiring in an aircraft. They help you provide some insulation and vibration absorption to signal to carry wires. In this way, the delicate wiring doesn't have direct contact with the steel clamp. Both the stainless steel and rubber coating are best for upkeep and aesthetics. When impact resistance is crucial, this is the most beneficial material. Thus, stainless steel cable clamps are best used when securing cables to an unsecured spot, such as automatic doors. It is also one of the longest-lasting products (regardless of the rubber coating) due to its' high resistance to corrosion as well as its' overall superior properties.
Are we missing the specification you need? Please go to our Contact Us page and submit your question to us, or call 1-877-284-7760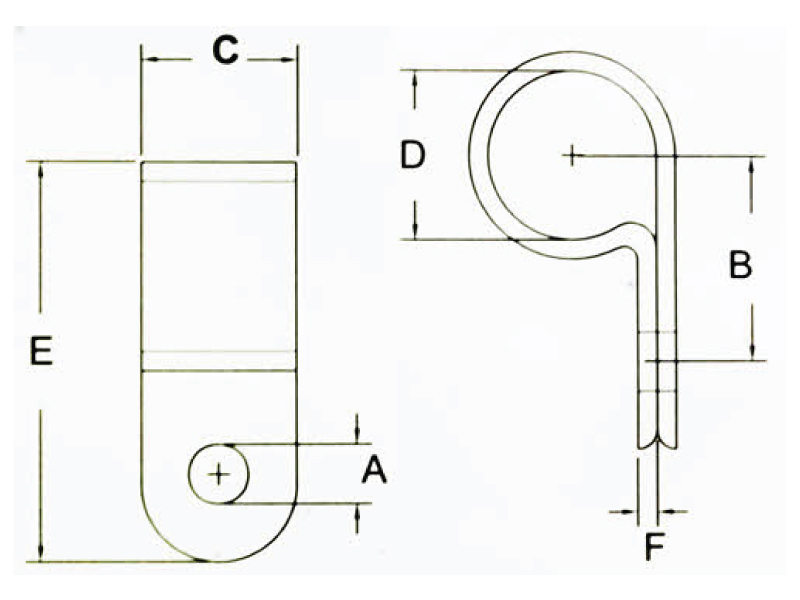 Cable Clamp Sizes and Dimensions (Inches)
ITEM #
A
Inches
B
Inches
C
Inches
D
Inches
E
Inches
F
Inches
CC-5021-C
0.18
0.39
0.39
0.25
0.787
0.055
CC-5022-C
0.196
0.51
0.43
0.38
1.00
0.059
CC-5023-C
0.196
0.598
0.47
0.5
1.22
0.059
CC-5024-C
0.18
0.716
0.46
0.75
1.37
0.059
CCUC6-100
0.18
0.866
0.47
1
1.69
0.07
Have a question that is not answered here? Please go to our Contact Us page and submit your question to us.
---
Request a Quote
Looking for a quotation ? We would be happy to help by providing a quick response, inventory status, and Volume Level pricing, when available. Please fill out the form below and a representative will be in touch with you within hours to one business day to answer any questions and quote your request.