Creality® PLA 3D Printer Filament
Available in 8 colors - 1.75mm Diameter - Universally Compatible
Creality® PLA 3D Printer Filament Features
FREE SHIPPING FOR FILAMENT ORDERS ABOVE $149.99
Diameter: 1.75mm
Weight: 1kg/Spool
Diameter tolerance is within ±0.02
Recommended Extrusion/Nozzle Printing Temperature 190 - 220℃;
Recommended Build Platform Temperature 0 – 50℃;
Can Be Stored for up to one year
Superb layer bonding
Vacuumed Sealed With Desiccant
3D PLA material filament is one of the most frequently used 3D printer filament types because it is easy to use and is a friendly, nontoxic, bio-degradable material derived from renewable resources such as field corn. Perfect for those who are new to 3D printing; compared to ABS, it is easy to use, excellent forming, demonstrates much less warping and curling and performs well on almost every type of printing. PLA filament is especially ideal for printing objects with flat surfaces, hard angles, and ones requiring tight tolerances for fit. Commonly used for prototypes, educational architectural models, and artifact replicas. It's a popular choice for users looking to paint objects after they have been printed, such as costume props and figurines. PLA filament is relatively brittle, so it is not recommended for thin, high strength applications. PLA filaments should be stored in a cool dry place since PLA tends to absorb moisture from the atmosphere which can compromise quality and performance. PLA (Polylactic acid) is an environmentally friendly material that will degrade responsibly. the PLA filament is constructed using thermoplastic aliphatic polyester made of renewable resources like corn or starch. Its extrusion temperature is much lower than ABS and most often doesn't require a heated bed. It is the " default " recommended material for many desktop 3D printers. The filaments are universally designed and compatible with 3D Printers using 1.75mm diameter filament, with a dimensional accuracy of +/- 0.05mm. 
Are we missing the specification you need? Please go to our Contact Us page and submit your question to us, or call 1-877-284-7760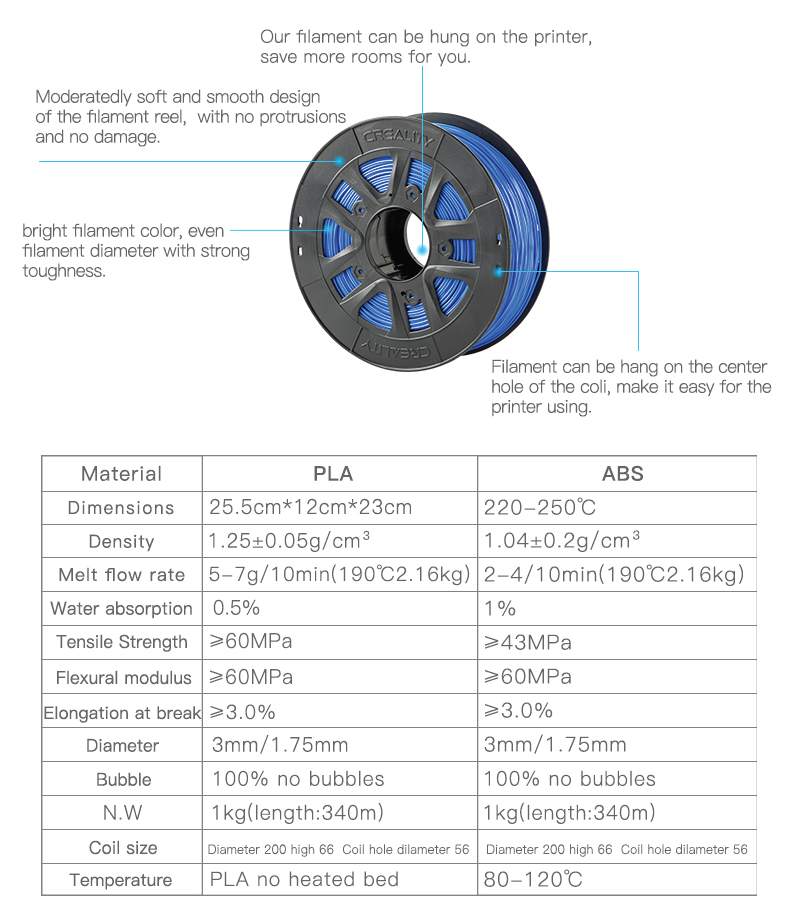 It has the following characteristics:
Good toughness high strength, high stiffness
Jam Free: Specially designed to reduce nozzle jams
good stick hotbed, a smooth PLA used
Low shrinkage, thermoforming dimensional stability
Accurate diameter: 1.75mm, variations + /-0.05mm, roundness +/-0.03mm
Have a question that is not answered here? Please go to our Contact Us page and submit your question to us.
---
Printing
Temperature:

190°C - 230°C

PLA can be printed both with and without a heated print bed, but if your desktop 3D printer does have a heated print bed it is recommended to set your print bed temperature to approximately 60°C
If warping still occurs, print using raft.
First layer usually 5°C-10°C higher than subsequent layers.
Stick well to glass with glue stick.
Sticks well to Blue painter's tape.
Sticks well to extra strong hair spray.
Sticks well with "ABS Juice" (scrap ABS filament dissolved in acetone)
Sticks well to PEI printing surface
PLA absorbs heat and so benefits from additional active cooling.
Request a Quote
Looking for a quotation ? We would be happy to help by providing a quick response, inventory status, and Volume Level pricing, when available. Please fill out the form below and a representative will be in touch with you within hours to one business day to answer any questions and quote your request.