Outdoor Cable Raceway - Kable Kontrol™
Designed To Protect Cables & Endure The Elements
Kable Kontrol™Outdoor Cable Raceway Features
MADE IN NORTH AMERICA
Paintable to match your exterior color or finish.
Length: 5 Ft
Material: PVC Plastic
Color: White
Channel Size: (1.22" W x 0.5" H)
Provides Abrasive Protection
Shields Hanging Outdoor Cables
Weather & Cold Resistant
UV Resistant
Moisture Resistant Material
ISO conforming
Hinged Latching Lid For Easy Installation
Can Be Cut To Length
Melt Temperature 380°F (190°C)
Max Operating Temperature 160°F (71°C)
Flammability Rating UL 94 Approved
The seamless, sleek yet rugged Kable kontrol® Smooth Mould Outdoor cable raceway routes and conceals cables with a uniquely continuous surface that is easy to install and crafted for exterior applications. When outdoor drops of cable from lighting, speakers, extension cords, etc. are running exposed along surfaces and around corners, the outer appearance and impression of your house, office, or business is significantly reduced. Not only unsightly, but this also leaves the runs themselves open to wearing and damage.
Are we missing the specification you need? Please go to our Contact Us page and submit your question to us, or call 1-877-284-7760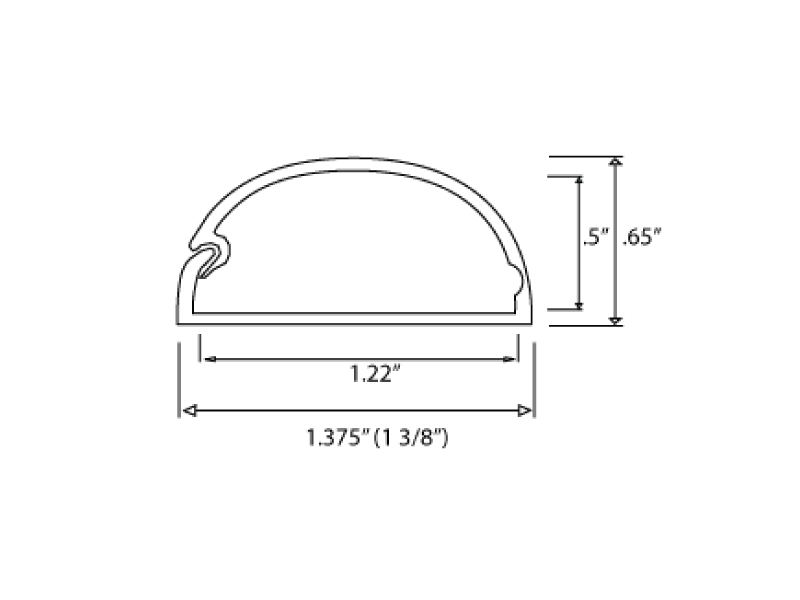 Dimmensions:
Width = 1.22"
Height= 0.5"
Length=5 ft
Have a question that is not answered here? Please go to our Contact Us page and submit your question to us.
---
Q: Does This Cable Raceway Have Adhesive Backing That Will Hold It On My Exterior Wall?
A: Yes, This Outdoor Cable Raceway does have Adhesive backing like our Indoor Cable Raceways. However, When It Comes to exterior Wall Mounting Most Customers Choose To Drill Through The Base Of The Raceway Into Their Wall. This Is The Best method For Mounting As It Will Not Damage The Cable Raceway And The Channel Will Stay Mounted More Securely Even In Strong Winds
Request a Quote
Looking for a quotation ? We would be happy to help by providing a quick response, inventory status, and Volume Level pricing, when available. Please fill out the form below and a representative will be in touch with you within hours to one business day to answer any questions and quote your request.