Lime Traffic Cones - JBC Safety®
18" | 28" | 36" Heights | Various Weight & Reflective Collar Options
JBC Safety® Lime Traffic Cones - Features
Injection Molded With Premium PVC
Indented Handle Top For easier Carrying & For Attaching Tapes
Reflective Collar Options For Night Time Use.
Custom Lettering and/or custom Logos Available
Meets Safety Standards: FHWA; MUTCD; NFPA; NCHRP-350 Crashworthy Approval
The Revolution series injection molded traffic cones have been strategically designed to bring you top-notch traffic management solutions at economical prices. These cost-effective traffic cones come with a unique interlocking system for ensuring secure road grip and sustainability even in harsh weather conditions.
FOR CUSTOM LETTER & LOGO CONES CLICK HERE
Traffic Cones Must Have 6" + 4" Reflective Collars For Approved Use On Public Roads At Night.
Revolution Series PVC Injection Molded Traffic Cones
The revolution series traffic cone will change the way you think about traffic cones. Vehicle and pedestrian traffic safety during rush hours and at night can be difficult. In such circumstances, not only are the chances of accidents more probable, but drivers and pedestrians tend to ignore traffic control tools and equipment. This problem is exacerbated if the traffic cones are broken, faded, or have tipped over due to other factors such as vehicle impacts, storms, or strong winds. To ensure the safety of foot and vehicle traffic, you need to use Injection molded DOT traffic cones with a black base. The revolution series traffic cone is a line of innovative, high-quality, cost-effective Traffic cones featuring our patented circle interlocking system and leveling differential mechanism, delivering outstanding performance under the harshest conditions. There's much more to the design than meets the eye. The patented leveling differential mechanism involves strategically placed cavities inside the base to provide a stronger foundation, allowing the JBC® traffic cones to absorb repeated impacts resulting in a virtually indestructible base. The revolution series traffic cones are made using high-quality premium grade PVC injection molding technology, resulting in the most durable traffic cones available in the North American market. The Patented process gives you the best of both worlds – high quality at a low price. Orange traffic cones are 100% fluorescent on both the inner and outer layers, the industry's first and only.
3M Reflective Hi-Intensity Collars
The 3M 3840 Hi-intensity reflective cone collars complement the high quality of the revolution series DOT traffic cones. Having such a high quality reflective cone collar demonstrates the level of quality these traffic cones provide during day or night. 3M high intensity is a plasticizer resistant encapsulated reflective lens sheeting with pressure-sensitive adhesive. The 3M 3840 cone sheeting is specifically designed to reflectorize the JBC® traffic cones, thus meeting the MUTCD requirements for highway and utility use. Accidents can happen at any time, day, or night. When they do reflective traffic cones are the first choice in temporary traffic systems for ensuring the safety of work crews, first responders, and other motorists. They are easy to install and pick up after the work has been completed. Moreover, these DOT traffic cones are especially useful in densely populated metropolitan areas where daytime work is too dangerous or too invasive to traffic.3M 3840 reflective cone collars have a full contact pressure-sensitive adhesive that stands up to repeated abuse even after multiple impacts at 50 mph.
Improve Traffic Management with Revolution Series Injection Molded Traffic Cones
The revolution series traffic cones with a black base have a patented leveling system that holds traffic cones in a vertical position and ensures the cones will not easily tip over.
Reliable, Economical Solution for Maximized Traffic Management
Visibility is the key to avoiding accidents. Injection-molded Traffic pylons are used to warn motorists of potential hazards to prevent mishaps and accidents and improve the flow of traffic in sensitive areas such as construction sites, repair work at roadsides, public gatherings in dense traffic areas.
Revolution series Injection-molded traffic cones are manufactured with 3M 3840 Hi-intensity reflective collars to maximize visibility at any time of the day. 3M high-intensity collar's reflectivity is achieved with the use of plasticizer resistant encapsulated lens reflecting sheeting for achieving pressure-sensitive adhesiveness. 3M 3840 cone sheeting is a specialized technique for improving the reflection of cones and meeting the standards of MUTCD.
Convenient Transportation and Packaging
Do you often struggle with setting up your traffic management system? Are you worried about damaging the products while transporting them? At Cabletiesandmore.com we offer quality, value, convenience, and economy to all our customers. We offer carts with increased capacity. Each product sent to you is checked by our monitoring team to ensure that you always receive the highest quality products from us!
Are we missing the specification you need? Please go to our Contact Us page and submit your question to us, or call 1-877-284-7760
Have a question that is not answered here? Please go to our Contact Us page and submit your question to us.
---
What traffic cone should I use?
When deciding which traffic cone you need for your application, you first should be sure of road laws regarding the traffic cone height required for the roadway speed during use. Moreover, you will need to buy cones with reflective sheeting if your application will involve using the cones at nighttime. Reflective sheeting to improve visibility, even during peak traffic hours or at night.
What are the different sizes of traffic cones for?
12″ traffic Cones are not approved for legal use on public roads. 12″ JBC traffic Cones are primarily designed for use in private area direction of vehicles, athletics, and physical training environments.
18″ Traffic Cones are approved for legal use on public roads.
28″ Traffic Cones are designed for use on Roadways, where the Speed is Greater than 45 mph. 28″ Traffic cones are the most popularly used traffic cone in highway maintenance, roadwork projects, and construction.
36″ traffic cones are the largest cone available and is approved for use on high-speed roadways > 45 Mph. The fact that this cone weighs upwards of 10 lbs provides adequate resistance to tipping over in heavy winds or backdraft from trucks and cars.
What is the MUTCD Standard for traffic cones?
The manual on uniform traffic control devices details the new design standard for reflectorized cones is as follows:
3" to 4" space at the top of the cone for handling
6" reflective band with a 2" gap until another 4" reflective band
What are the benefits of using injection-molded traffic cones?
help minimize the chances of accidents or mishaps.
Injection-molded traffic cones have a black base for added stability.
injection-molded traffic cones to withstand strong winds of up to 50 mph.
Injection-molded traffic cones can withstand crushing and impact from heavy vehicle traffic without breaking.
What Is the Cost for custom marking
Stencils: A stencil is a simple stencil font ( lettering) that does not allow for logos or complex artwork. Stencil setup fee is a one time charge of $45.00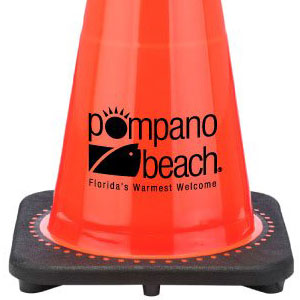 Silkscreens: A silkscreen will allow you the most flexibility in fonts, styles, logos and designs to appear on your cones. Silkscreen set up fees is a one time charge of $130.00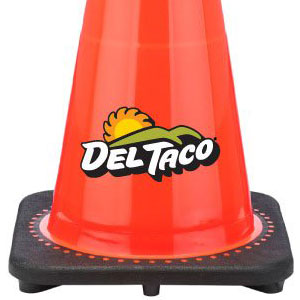 Full Color Digital Vinyl Technology: Limitless color and design options. Set up fees is a one time charge of $45.00
What are the common traffic cone application areas?
Roadside construction or repair work
Construction of a new road
Industrial development
Parades
Exhibitions, tradeshows, and roadshows
Parking lot of shopping malls and commercial buildings
Accident or emergency site
Roadside gatherings
Construction of pedestrian pathways, green belts and for roadside plantations
Dog or animal training centers
Campgrounds
Parking lots
Wet floors
School sporting events
Amusement parks
Request a Quote
Looking for a quotation ? We would be happy to help by providing a quick response, inventory status, and Volume Level pricing, when available. Please fill out the form below and a representative will be in touch with you within hours to one business day to answer any questions and quote your request.