Pack Kontrol® Heavy Duty Multi-Depth Boxes
Minimize Dimensional Weight Charges With Heavy Duty Strength
Pack Kontrol® Heavy Duty Multi-Depth Boxes Features
Heavy-Duty Multi-Depth Boxes have Heavy-Duty construction and the Multi-Depth style providing greater protection and stacking strength combined with flexibility
Minimizes the impact of new UPS and FedEx dimensional weight pricing by eliminating empty space in boxes
Multi-Depth style cartons offer the benefits of having many box sizes in inventory without using up valuable storage space
To obtain the desired size container, simply cut down to the pre-scored interval on the sides of the box
Manufactured from Heavy-Duty 275#/ECT-44 single wall kraft corrugated
40% stronger than standard shipping containers
Pack Kontrol® Heavy Duty Multi-Depth Boxes combine the reliable sturdiness of Pack Kontrol's heavy duty corrugated cardboard with a multi-depth design that allows for multiple box sizes based on independent demands. The pre-scored intervals on the sides of the box can be used to rapidly procure a smaller box equivalent without having to stock multiple sizes for consumption, saving space and reducing the complexity of supply management. Minimizing space also decreases the cost of shipping for further savings. These boxes are also 40% stronger than standard shipping containers with a 275#/ECT-44 rating to handle tough environments.
Are we missing the specification you need? Please go to our Contact Us page and submit your question to us, or call 1-877-284-7760
Dimensions indicated represent the inside dimensions of the box. Pay close attention to the variable depths listed when selecting an item.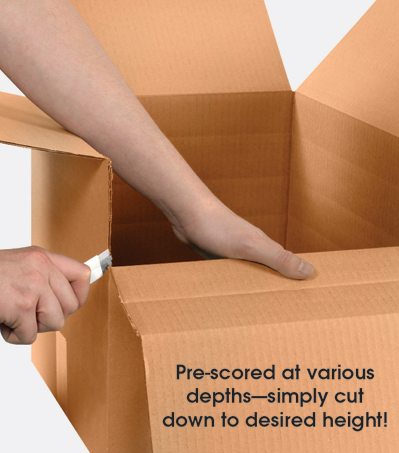 275# is a rating of burst strength, which means it should take approximately 275 pounds per square inch of force to rupture the cardboard.
ECT-44 is a rating of stacking strength, or edgewide compressive ability.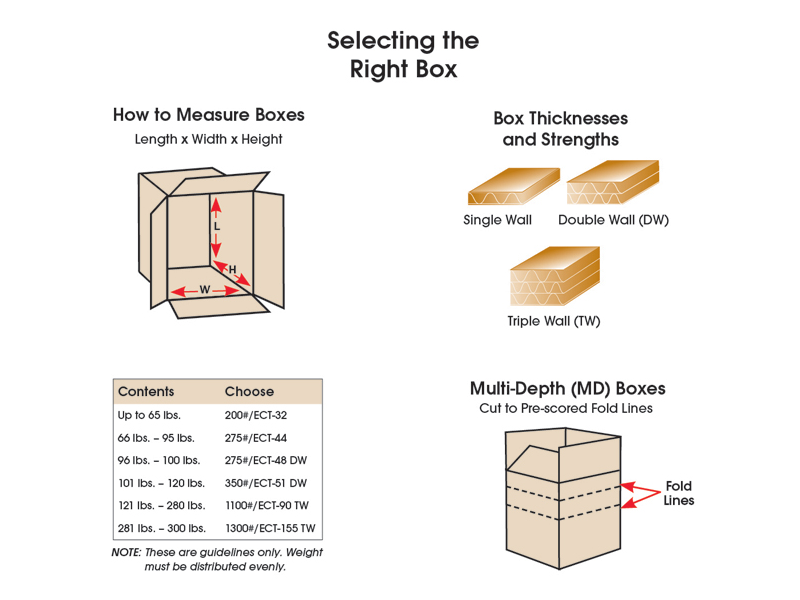 Have a question that is not answered here? Please go to our Contact Us page and submit your question to us.
---
Request a Quote
Looking for a quotation ? We would be happy to help by providing a quick response, inventory status, and Volume Level pricing, when available. Please fill out the form below and a representative will be in touch with you within hours to one business day to answer any questions and quote your request.