Kable Kontrol® Heavy Duty UV Black Cable Ties
Available In 8" - 60" Lengths & 120 Lb - 250 Lb Strengths
Kable Kontrol® Heavy Duty Black Cable Ties Features
UV Stabilized Nylon 6/6

Cable Ties Constructed With Nylon Resins Made In The USA

-40ºF to +185Fº Operating Temperature Range

Weather-resistant grade for enduring additional Ultraviolet (UV) light

Available In 120, 175 & 250 LB Tensile Breaking Strengths
Self Locking Head
Rounded Edges to Save Hands from Abrasion
Conforms to ASTM-D4066 PA181
RoHS Compliant: RoHS Compliant 2011/65/EU
AH-2 Plenum Rating
See More Technical Specifications
Heavy Duty Black UV Nylon Cable Ties are specifically designed to withstand extra pressure and weight in order to provide you with a more secure bundling ability. Not only are these heavy-duty zip ties made to offer greater strength but they also provide increased resistance to the elements and direct exposure to UV rays from the sun. Most commonly UV black cable ties are used outdoors however they can be used indoors as well.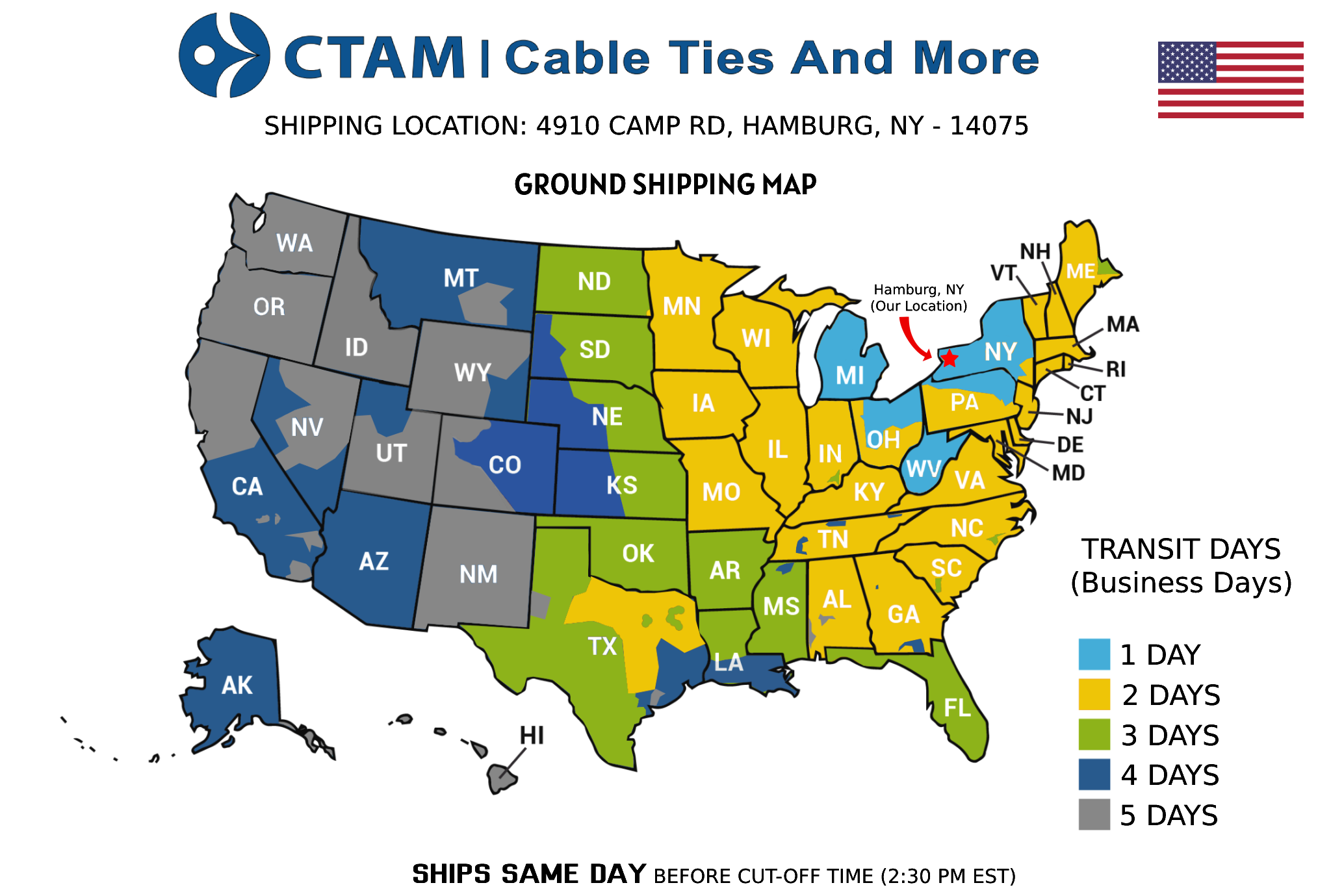 Are we missing the specification you need? Please go to our Contact Us page and submit your question to us, or call 1-877-284-7760
Model #
Length (L)
Width(W)
Max Bundle Diameter
Tensile Strength
CT278
8" (203mm)
0.30" (7.6 mm)
2.16" (55mm)
120 lbs
CT102
9" (228mm)
0.50" (12.7mm)
2.3" (58.4mm)
250 lbs
CT277
11" (279mm)
0.30" (7.6 mm)
3.18" (78mm)
120 lbs
CT274
14" (355mm)
0.30" (7.6 mm)
4.01" (99mm)
120 lbs
CT15BK
15" (380mm)
0.50" (12.7mm)
4.125" (104.8mm)
250 lbs
CT7109
18" (457mm)
0.30" (7.6 mm)
4.7" (119.38mm)
120 lbs
CT19BK
19" (482mm)
0.50" (12.7mm)
5" (127mm)
250 lbs
CT104
22" (558mm)
0.50" (12.7mm)
6" (152.4mm)
250 lbs
CT-24-BK-100PK
24" (609mm)
0.35" (9 mm)
6.64" (168.7mm)
175 lbs
CT276
28" (711mm)
0.35" (9 mm)
8.66" (220mm)
175 lbs
CT275
32" (812mm)
0.35" (9 mm)
9.68" (245.9mm)
175 lbs
CT297HV-50
36" (914mm)
0.35" (9 mm)
10.5" (266.7mm)
175 lbs
CT297HV-100
36" (914mm)
0.35" (9 mm)
10.5" (266.7mm)
175 lbs
CT40BK-50
40" (1016mm)
0.50" (12.7mm)
11.7" (297.2mm)
250 lbs
CT293
48" (1219mm)
0.35" (9 mm)
14.96" (380mm)
175 lbs
CT298B
60" (1524mm)
0.35" (9 mm)
20" (508mm)
175 lbs

Material Specifications
MATERIAL
MIN
OPERATING
TEMPERATURE
MAX
OPERATING
TEMPERATURE
UV
RESISTANCE
UL FLAME
RATING
Nylon 6/6-
UV Stabilized
-40ºF
-40ºC
185ºF
85ºC
Very High
94V-2
GAMMA RADIATION RESISTANCE
MILITARY,
FEDERAL, AND
ASTM
SPECIFICATIONS
TENSILE STRENGTH
AT 73ºF
DRY AS MOLDED
ASTM-D-638 (PSI)
OXYGEN
INDEX
%
1x10 Rads
ASTM-D4066 PA181
12,000

24 -28%
*KABLE KONTROL HEAVY DUTY BLACK ZIP TIES* – 30 Day Return & Refund Policy
If you are not entirely satisfied with your purchase, we're here to help. You have 30 calendar days to return an item from the date you received it. To be eligible for a return, your item must be unused and in the same condition that you received it. Your item must be in the original packaging.
You are required to have an RMA (Returned Merchandise Authorization) assigned by our customer service team. To apply for an RMA you must fill out our RMA request Form linked here.
Undeliverable Shipments:
In the event that the customers shipping address provided is deemed undeliverable by the shipping carrier, shipping fee's will not be refunded. Instead it is the customers responsibility to provide a deliverable address.
Defective/damaged products or items incorrectly shipped:
In the highly unlikely event that a defective product or the another item that was not ordered was sent to you, please contact us via phone or email to schedule a return within 14 days of receiving the product. We may require photos for documentation and to authorize a replacement shipment.
Defective/damaged products or items incorrectly shipped by Cable Ties And More or by our manufacturers, will be re-shipped at our expense. Additionally, return shipping expense of incorrect or defective product will be at our expense. We will provide you with a return shipping label with detailed shipping instructions.
Refunds
Once we receive your item, we will inspect it and we will immediately notify you on the status of your refund after inspecting the item. If your return is approved, we will initiate a refund to your credit card (or original method of payment). You will receive the credit within 48 hours after product condition is verified.
Shipping Fees
You will be responsible for paying for your own shipping costs for returning your item. Shipping costs are non-refundable. If you receive a refund, the cost of return shipping will be deducted from your refund. For additional information in this section, create your own Return & Refund Policy.
Contact Us
If you have any questions on how to return your item to us, contact us using our Email Form Here… Or call during our business working hours at 1-877-284-7760
Have a question that is not answered here? Please go to our Contact Us page and submit your question to us.
---
Request a Quote
Looking for a quotation ? We would be happy to help by providing a quick response, inventory status, and Volume Level pricing, when available. Please fill out the form below and a representative will be in touch with you within hours to one business day to answer any questions and quote your request.