BOSCH® Random Orbit Sander 6 In. Dual-Mode - GET75-6N
Delivers 3X the removal rate of standard random-orbit action
BOSCH® Random Orbit Sander 6 In. Dual-Mode - GET75-6N Features
Dual-mode design – easily switches between both standard random-orbit mode and turbo direct-drive eccentric-orbit mode
Turbo mode – has direct-drive rotation for 3x stock removal of standard random-orbit mode, for an alternative to a belt sander
Multi-hole pad system – allows flexibility so tool can use a wide variety of abrasive discs
Versatile hose compatibility – includes extension dust tube and VAC024 Vacuum Hose Adapter for connection to 35mm, 1-1/4 In. and 1-1/2 In. hoses
Built-in dust port – for connection to vacuum hoses
Standard random orbit mode – for normal stock removal and ultra-smooth fine finishing
Integral pad-dampening system – helps prevent swirl marks for consistent fine finish
Rugged die-cast aluminum gear housing with exclusive dual-bearing pad mount – featuring a long-life design that lessens wobble and vibration
Slim-grip design – features comfortable, narrow grip to help ease hand fatigue
Constant speed – helps maintain speed under load
Removable pad guard – helps prevent pad from touching surfaces in front of or alongside workpiece
Auxiliary handle – mounts on either side of tool for greater control
See More Technical Specifications
This ergonomically designed 6 In. sander features both a standard random-orbit mode and a direct-drive, eccentric-orbit turbo mode for aggressive stock removal. The Bosch GET75-6 Dual-Mode Random Orbit Sander's turbo mode delivers 3X the removal rate of standard random-orbit action. It has a tapered top handgrip with soft-grip design. The auxiliary handle mounts on either side of the sander for outstanding control. The sander features an enhanced multihole pad system that is compatible with a wide variety of abrasive discs. The random-orbit action both orbits and rotates to provide a well-blended, ultra-smooth surface finish. It is built with an integral pad-dampening braking system to help prevent swirl marks, plus it has a medium microcellular hook-and-loop backing pad. The die-cast aluminum gear housing with dual-bearing pad mount helps lessen vibration. This tool has an enhanced dust-collection system for maximum efficiency when used with a vacuum cleaner and hose. Large channels in the pads allow debris to be easily pulled through vacuum port.
Are we missing the specification you need? Please go to our Contact Us page and submit your question to us, or call 1-877-284-7760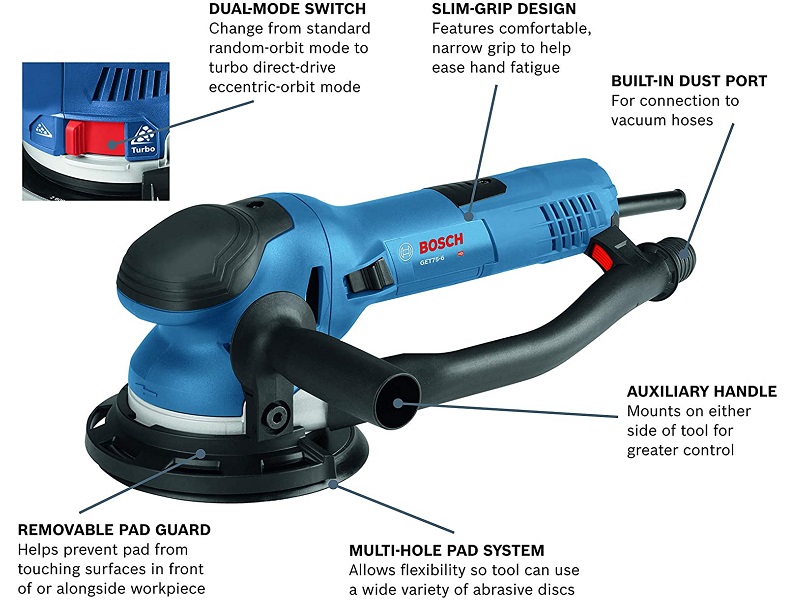 TECHNICAL DATA
Amperage

7.5

Disc Size

6"

Dust Collection

Yes

Height

5.5"

Length

15.0"

No Load OPM

3300 –7300 min–1 / RPM

Notes

Replaces 1250DEVS

Orbit Radius

0.18" (4.5 mm)

Pad Size

6"

Paper Size / Type

6" Round Hook & Loop

Rating

120 V

Sander Type

Random Orbit Sanders

Separate On/Off Speed Control

Yes

Speed Control

Variable Speed

Speed Range

290 - 640 RPM

Voltage

120V

Weight

5.7lb

Width

6.3"

Works With

Anti-Static Vacuum Hoses
VH1622A and VH1635A (by means of anti-static adapter included with those hoses), VAC008, and most other 35 mm and 22 mm anti-static hoses

Other Vacuum Hoses
VH1022, VH1035, and VH1635 (by means of VX120 adapter included with those hoses), VAC005 and VAC006 and most other 35 mm and 22 mm vacuum hoses

Adapter for 1-1/4" and 1-1/2" Hoses
VAC024 (NOT COMPATIBLE with VAC002 adapter)

Soft Hook-&-Loop Backing Pad
RSM6044

Medium Hook-&-Loop Backing Pad
RSM6045

Hard Hook-&-Loop Backing Pad
RSM6046

Includes

(1) GET75-6 6 In. Dual-Mode Random Orbit Sander, (1) Medium Backing Pad, (1) Hex Pad Wrench, (1) Sanding Disc, (1) Removable Front Handle, (2) Vacuum Hose Adapters
Have a question that is not answered here? Please go to our Contact Us page and submit your question to us.
---
Request a Quote
Looking for a quotation ? We would be happy to help by providing a quick response, inventory status, and Volume Level pricing, when available. Please fill out the form below and a representative will be in touch with you within hours to one business day to answer any questions and quote your request.