BOSCH® Brushless StarlockPlus® Oscillating Multi-Tool (Bare Tool) 18V EC
flush-cutting, plunge-cutting, sanding, grinding, & other Tasks
BOSCH® Brushless StarlockPlus Oscillating Multi-Tool (Bare Tool) 18V
Starlock® 3-D tool-accessory interface – best-in-class grip means more torque transfer
Multi-tool versatility – accomplish flush-cutting, plunge-cutting, sanding, grinding, and many other tasks
Dynamic accessory range – utilizes all Starlock® and StarlockPlus®® accessories
Corded-like performance – power and speed comparable to the corded Bosch GOP40-30 StarlockPlus®® oscillating tool
EC Brushless motor technology – offers up to 30% more power and better efficiency than previous-generation 18 V motors for increased runtime and exceptional motor life in an ultra-compact design
Wide 2.8° oscillating arc – provides better accessory utilization and increased productivity
Snap-in toolless accessory attachment and release lever – allows for no-touch, easy release of blade; no more burned fingers
LED light – for illumination in dark work areas
Flush-cutting design – built to accomplish flush cuts such as doorjambs cuts using various plunge or segment blades
Constant Response circuitry – maintains the desired speed under load
Variable-speed dial – able to match speed from 8,000 to 20,000 oscillations per minute to application for outstanding results
Electronic Motor Protection (EMP) – protects the motor against overload and ensures a long lifetime
Electronic Cell Protection (ECP) – protects the battery (sold separately) against overload, overheating and deep discharge
Compact build – reaches into corners and other tight spaces
Ergonomic design – weighs only 2.7 Lbs. with a small grip diameter, for user comfort
Reinforced metal gearing – provides optimal force transmission from the tool to work surface
Straightforward on/off slide switch – allows for greater ease of use
No-mar plastic ribs – protects the work surface in front of the tool from scuffs or scratches
The Bosch GOP18 V-28 18 V StarlockPlus®® Oscillating Multi-Tool (Bare Tool) features the Starlock® next-generation 3-D tool-accessory interface. This provides outstanding accessory grip, making it the new professional standard in oscillating tool performance. With more contact surface area between the tool and accessory, the Starlock® interface is a cupped 3-D tool-accessory connection that delivers greater torque transfer for an expanded work capacity. The no-touch blade-change system makes it easy to attach, remove or reposition blades. The EC Brushless 18 V motor offers up to 30% more power and better efficiency than previous-generation 18 V motors for increased power and runtime, offering performance comparable to the corded Bosch GOP40-30 StarlockPlus®. The 18 V motor delivers a top speed of up to 20,000 oscillations per minute, and the tool provides a 2.8° oscillating arc. A variable-speed dial allows the user to set the optimal speed for the task at hand, and Constant Response circuitry maintains the desired speed under load. At only 2.7 lbs., this light and compact tool reaches tight spaces, provides comfortable ergonomic grip zones, and has an LED light for illumination in dark work areas. The GOP18 V-28 provides outstanding versatility – utilizing the many Starlock® and StarlockPlus® accessories to handle flush-cutting, plunge-cutting, sanding, grinding, and many other tasks related to a wide array of materials. (For compatibility with StarlockMax® accessories, which perform industrial-grade applications, Bosch offers the GOP55-36 Oscillating Multi-Tool.) It is a bare-tool kit; the battery and charger are sold separately.
Are we missing the specification you need? Please go to our Contact Us page and submit your question to us, or call 1-877-284-7760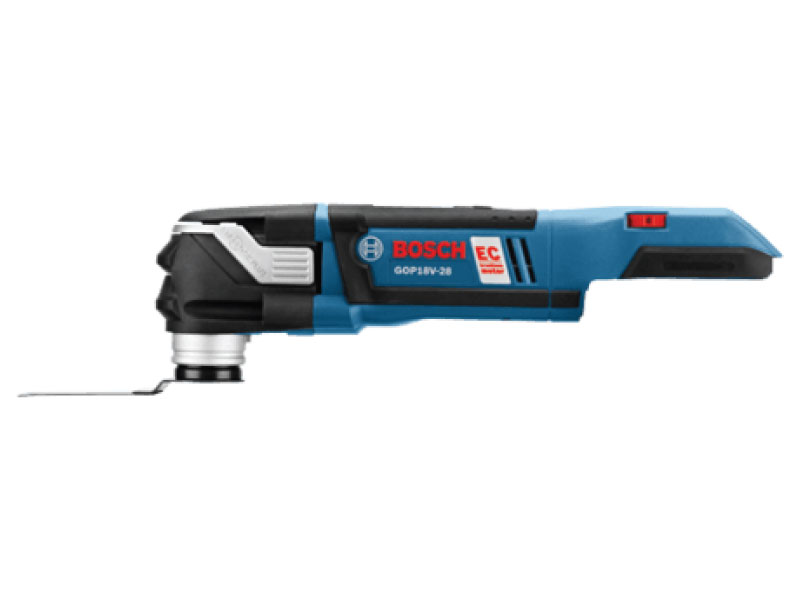 Specifications

Battery
Lithium-Ion Battery
Battery Chemistry
Lithium Ion
Battery Voltage (V)
18
Charger
(Sold separately)
Height
3.2"
Length
12.6"
Material
Plastic Composite and Aluminum
Model Number
GOP18V-28N
Oscillating Angle
L / R: 1.4° (2.8° Total)
Oscillations Per Minute
8,000-20,000
Rating
18V
Separate On/Off Speed Control
Yes
Speed Range
8,000 - 20,000 OPM
Speed Type
Variable
Weight
2.7lb
Width
3.0"
Works With
Accessories
Compatible with Starlock and StarlockPlus Accessories - NOT compatible with StarlockMax Accessories

---

Depth Stop
OSC004

---

Delta / Triangle Sanding Pad
OSL350SPD

---

Dust Collection Attachment
OSC005 --- for sanding only --- when used with these sanding accessories: OSL350SPD, OSL350CR2, OSL350CR4, OSL350CR6, OSL350CR10
Includes
(1) GOP18V-28 18V EC Brushless StarlockPlus® Oscillating Multi-Tool, (1) 1-1/4 In. Plunge Blade, (1) Accessory Box
Have a question that is not answered here? Please go to our Contact Us page and submit your question to us.
---
Request a Quote
Looking for a quotation ? We would be happy to help by providing a quick response, inventory status, and Volume Level pricing, when available. Please fill out the form below and a representative will be in touch with you within hours to one business day to answer any questions and quote your request.