3M™ 8979 Performance Plus Duct Tape
12.6 Mil | Clean removal for up to 6 months outdoors and indoors
3M™ 8979 Performance Plus Duct Tape Features
2" Inch Wide x 25 Yards Long
Color – Slate Blue
Total Thickness – 12.6 Mil
Stays on for up to one year without deterioration even outdoors.
Saves time of removing sticky residue.
Strong waterproof backing resists wear, abrasion, moisture, and weathering.
Aggressive adhesive for quick and reliable attachment.
Meets UL 723, HUD, and BOCA codes.
Backing is curl resistant and conformable making it easy to handle and apply.
The rubber adhesive bonds well to most surfaces and has excellent initial stick. Once in place, it stays where you put it. One tape may be used for many applications with little waste.
Unwinds from the roll easily making it convenient to use and preventing user fatigue. 25 yd. rolls can also be used with the 3M™ Hand Masker™ Dispenser M3000 and other dispensers to increase efficiency in hanging paper and plastic sheeting, or dispensing the tape itself.
The slate blue color blends with grays, but is distinct to insure the correct tape is used for outdoor and removable applications.
48 mm rolls have a special edge treatment so the sides are not tacky and pick up less dirt. They are individually wrapped to preserve the tape integrity resulting in less waste.
3M™ Performance Plus Duct Tape 8979 has a unique tape construction that allows for both permanent and temporary applications whether indoors or outdoors. It is removable with little or no adhesive residue from most opaque surfaces up to 6 months after application. 3M duct tape 8979 is also UV resistant for one year. It will not delaminate or deteriorate in sunlight. The tape is conformable, abrasion resistant, and water resistant. The polyethylene film and cloth scrim construction provides straight, easy tear with high tensile strength for the most demanding applications.
Application Ideas
Ideal for demanding duct tape applications in the construction, electrical HVAC, industrial, marine, and plumbing markets.
Patching, reinforcing, bundling, moisture proofing, sealing, splicing, temporary repair.
Taping and splicing insulation, capping pipe and conduit, marking and labeling.
Hanging polyethylene drapes, abatement activities, industrial masking and sandblast overspray protection.
Maintenance, holding, packaging, wrapping.
Are we missing the specification you need? Please go to our Contact Us page and submit your question to us, or call 1-877-284-7760
Product Construction
Backing – Polyethylene over cloth scrim
Adhesive – Natural & Synthetic Rubber
Color – Slate Blue
Standard Roll Length – 54.8 m (60 yds.) , 22.9 m (25 yds.)
Standard Width – 1.89 in. (48 mm) / 2.83 in. (72 mm)
Storage
Store under normal conditions of 60° to 80°F (16° to 27°C) and 40 to 60% R.H. in the original carton.
Shelf Life
To obtain best performance, use this product within 18 months from date of manufacture.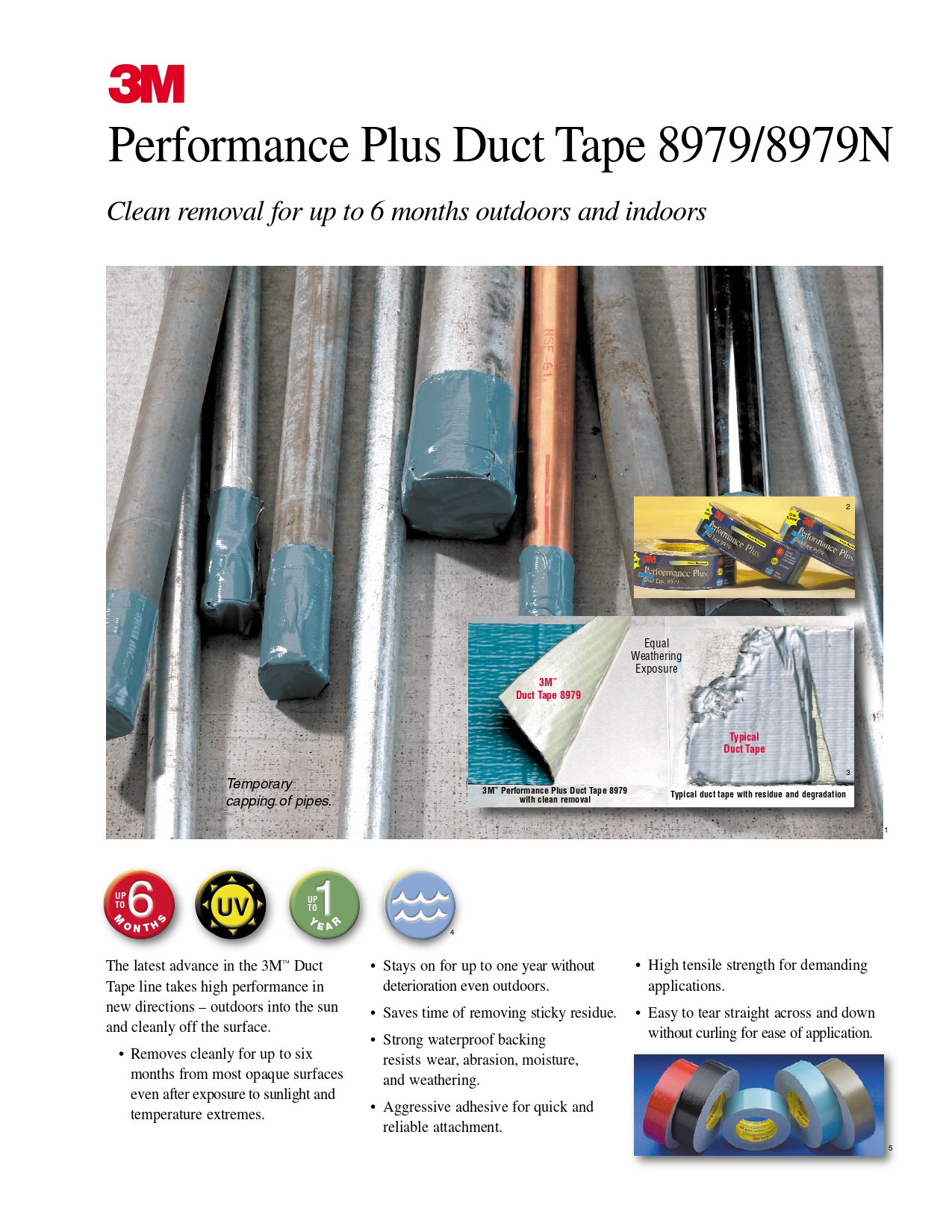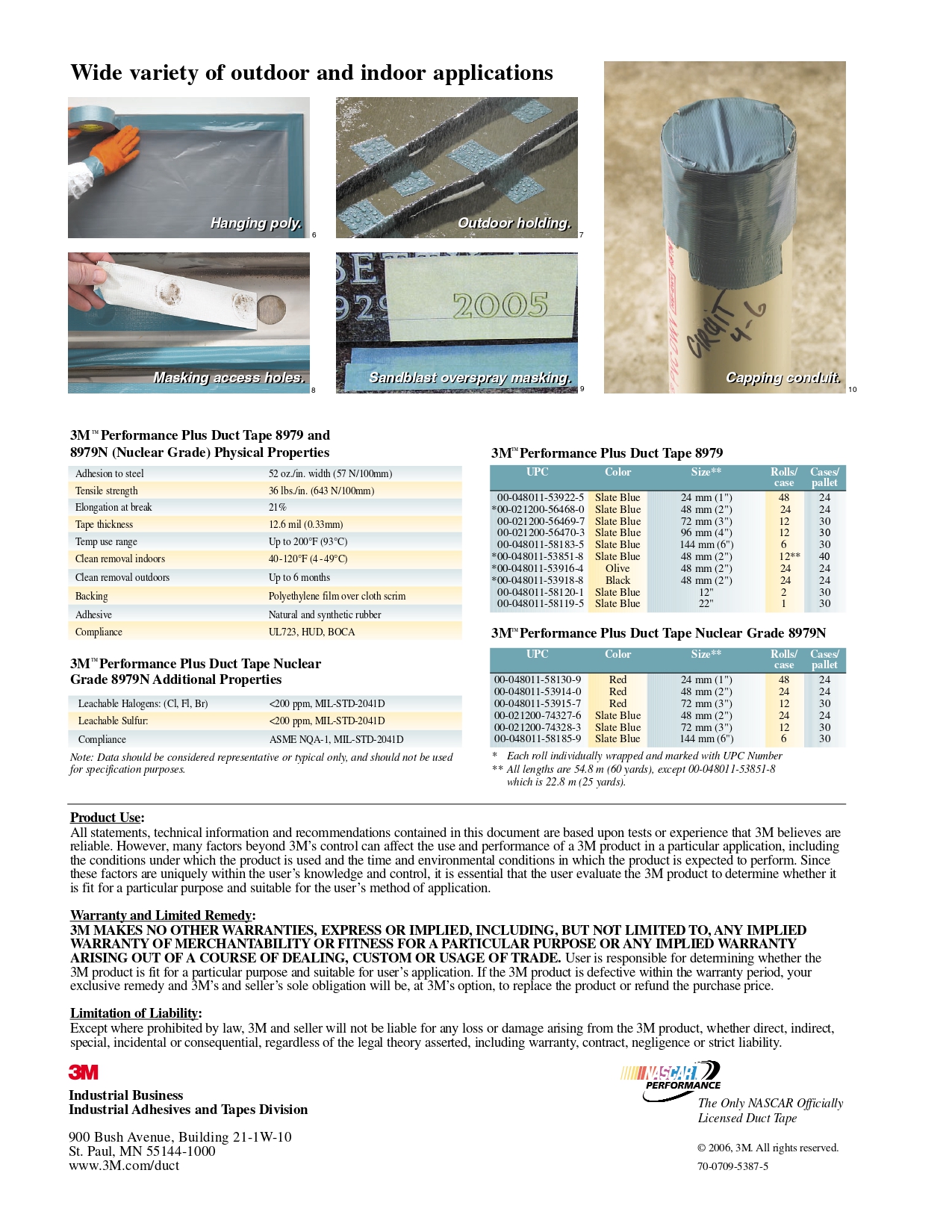 Have a question that is not answered here? Please go to our Contact Us page and submit your question to us.
---
Request a Quote
Looking for a quotation ? We would be happy to help by providing a quick response, inventory status, and Volume Level pricing, when available. Please fill out the form below and a representative will be in touch with you within hours to one business day to answer any questions and quote your request.