AlturnaMAT® Ground Protection Mats
Diamond plate tread on both sides | Different sizes available
AlturnaMAT® Ground Protection Mats Features
100% recycled high-density polyethylene (HDPE)
Diamond cleat tread surface provides impressive grip
Optional hand holes for easy manoeuvrability
Supports loads up to 120 tons*
Available in black or clear
Contours to different ground conditions due to its flexible design
Low-profile VersaMat® surface also available
Mats can be locked together with Turn-A-Links forming a continuous roadway or workable platform
Limited Lifetime Warranty
See More Technical Specifications
AlturnaMat® is a mat boasting an aggressive diamond plate tread design and a high load capacity ideal for use over soft or sensitive ground conditions in the construction, civil engineering, ground work, and events industries. These rugged mats are made of .5-in. thick polyethylene making them virtually indestructible. AlturnaMat® can withstand loads of up to 120 tons*, and its flexible construction means that these mats will follow the contours of the ground to deliver a highly-effective access solution over undulating or sloping ground conditions. Weighing just 86 lbs at its maximum size, and just 21 lbs at its smallest, AlturnaMat® can be easily deployed and maneuvered without any special equipment with the added optional convenience of strategically positioned hand holes. AlturnaMat® can be connected together using our Turn-A-Link connectors to create a secure trackway or workpad.
Are we missing the specification you need? Please go to our Contact Us page and submit your question to us, or call 1-877-284-7760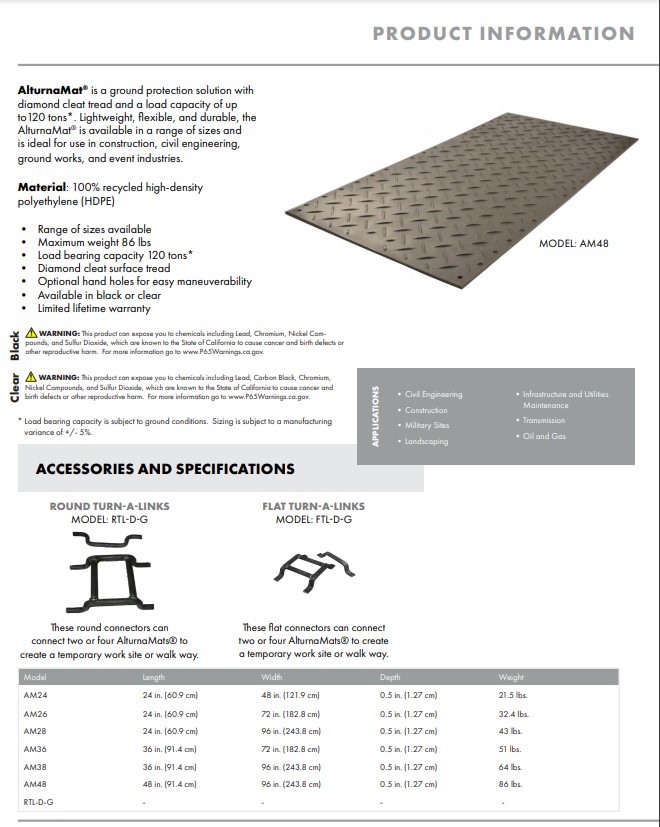 NON CANCELLABLE / NON RETURNABLE
Have a question that is not answered here? Please go to our Contact Us page and submit your question to us.
---
Request a Quote
Looking for a quotation ? We would be happy to help by providing a quick response, inventory status, and Volume Level pricing, when available. Please fill out the form below and a representative will be in touch with you within hours to one business day to answer any questions and quote your request.